About Us
A bit about the team.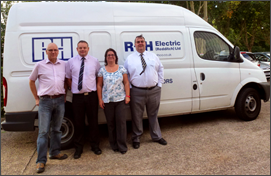 R & H Electric (Redditch) Ltd has been trading in Redditch for over 25 Years, and in our current location since 1989, and since 2008 has been trading as an independent wholesaler.
R & H Electric (Redditch) is committed to providing friendly and helpful services to every single client. We are a small and closely knitted team who have the experience and understanding you need to make an informed purchase.
If you would like to contact us for a quote, or if you want to know if we stock a particular item, or if you just need some advice on the item you are thinking of purchasing, you can contact us directly and you can be confident that our friendly and knowledgeable staff will be happy to help you with your enquiry.

David Hemming
Managing Director

Kevin Henderson
Sales Manager

Greg
Warehouse Supervisor

Katie Hemming
Company Secretary